India highlighted its advantage over the Central Asian Volleyball Association (CAVA) Women's Volleyball Challenge Cup after demolishing Kazakhstan 3-0 in the final matchup at the National Sports Council's covered hall in Kathmandu, Nepal on Sunday.
An exceptional 25-15, 25-22, 25-18 win gave India the final title with a remarkable undefeated record. On their way to Sunday's start and the prestigious title, they did not lose a match against their rivals.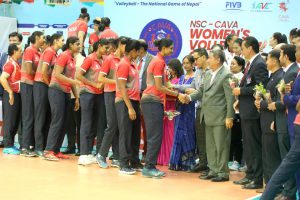 India got off to a great start by defeating Bangladesh 3-0 in the opening match of the qualifying group stage on May 22, and repeated the feat with a 3-0 win over Kyrgyzstan the following day. In their last qualifying match on May 24, they won a dramatic 3-1 victory over hosts Nepal and finished first in Group A.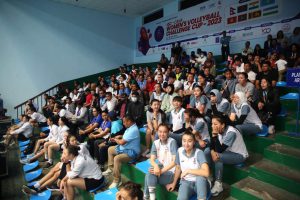 Indians continued their undefeated streak in the tournament after beating Uzbekistan 3-0 in the crossover semi-final on May 26 and beating Kazakhstan 3-0 in the final. Kazakhstan also did not lose a match against their rivals en route to Sunday's clash on Sunday.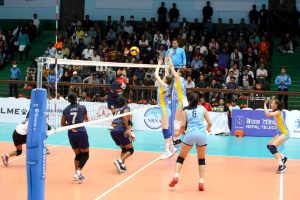 Against the formidable Kazakhstan, India, who took silver at last year's AVC Women's Challenge Cup in Nakhon Pathom, Thailand, remained strong on the offensive with the likes of Nirmal, Soorya and Anushree. The Kazakh side was led by Sitkazinova and Onerbekkyzy.
In the first set, the well-established Indians got off to a good start to win a comfortable set 25:15. Having a 1-0 lead, the Indians played confidently, with consistency and resilience in the second set. Kazakhstan put up a great fight but still found the Indians too hot to deal with. After powerful attacks from Nirmala and Soorya, India won the tight second set 25-22.
Kazakhstan tried hard to come back, but the Indians did an impressive job, shattering the high hopes of their rivals with a 25:18 win in the third set.
Soorya scored 13 points for India while Anushree and Nirmal kept good company adding 12 and 10 points respectively. Sitkazinova scored a game-high 17 points after Kazakhstan lost the game.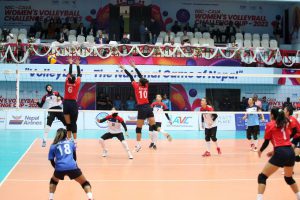 In an earlier third-place play-off, hosts Nepal, who won the AVC Central Zone Championship twice in 2019 and 2021, recovered from a 20-25 first set loss to win three sets in a row 25-16, 25-15, 25-13 for the final 3-1 win over Uzbekistan and the bronze medal.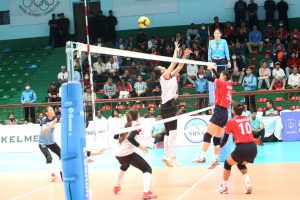 Saraswoti scored 23 points for Nepal while Usha added a crucial 17 points. Ezozakhon led Uzbekistan with 11 points.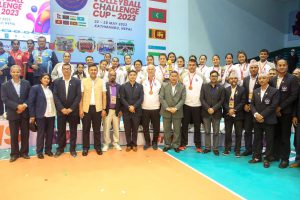 Youth and Sports Minister Dig Bahadur Limbu and Tanka Lal Ghising, Member Secretary of the National Sports Council of Nepal jointly presided over the awards and closing ceremony on Sunday.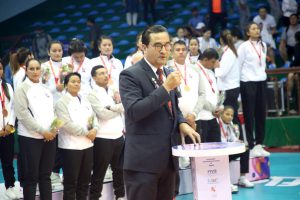 Also present were the President of CAVA, Mr. Jitendra Bahadur Chand, President of the Nepal Volleyball Federation, Mr. Peter Sprengher, President of the Netherlands Volleyball Federation, Mr. Durja Kumar Rai, former international volleyball player and Mr. Deepak Bista, a Nepali former taekwondo player and practitioner who competed at 2008 Summer Olympics and was one of the most popular athletes in Nepal.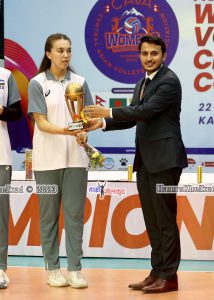 Mr. Hitesh Malhotra from the FIVB Technical and Development Department, representing the CAVA global tournament governing body, was also present at the team medal ceremony.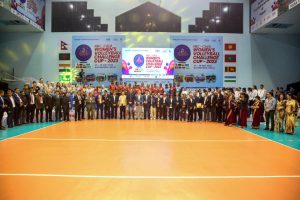 India became champions in the CAVA Women's Volleyball Challenge Cup, while Kazakhstan and hosts Nepal won silver and bronze medals respectively. Uzbekistan finished fourth in the tournament.
It was also confirmed that the Nepal Volleyball Association will host the inaugural CAVA Men's Volleyball Club Championship in December 2023, the first ever club championship in Central Asian Volleyball Association history.
TEAM RANKING
1.India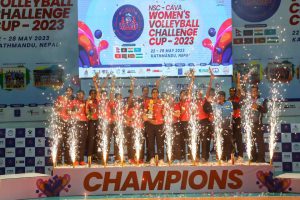 2.Kazakhstan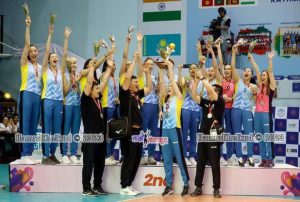 3.Nepal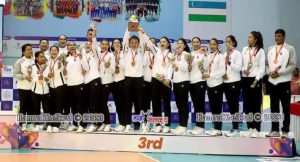 4. Uzbekistan
5. Sri Lanka
6. Kyrgyzstan
7.Maldives
8.Bangladesh
INDIVIDUAL AWARDS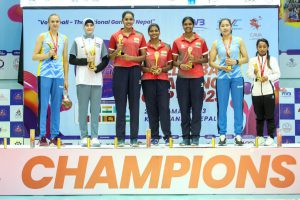 The best boxers from the outside
Bota Uatayev (No. 9) Kazakhstan
KP Anushree (No. 13) India
The best blockers
Soorya S. (No. 6) India
Toshkenboyeva Khodisakhon (No. 3) Uzbekistan
The best opponent
Zarina Sitkazinova (No. 7) Kazakhstan
Best free
Salina Shrestha (No. 18) Nepal
The best quarterback
KS Jini (No. 7) India
Most Valuable Player
Nirmal (#10) India
QUICK LINKS
AVC website: click www.asianvolleyball.net
AVC Facebook: click www.facebook.com/AsianVolleyballConfederation
AVC Twitter: click: www.twitter.com/AsianVolleyball
Instagram AVC: click: https://www.instagram.com/avcvolley/?hl=en
AVC Youtube: click: Asian Volleyball Confederation
AVC WeChat: Asian Volleyball Confederation
Post INDIA ROUT KAZAKHSTAN IN STRAIGHT SETS TO WIN CAVA CUP IN WOMEN'S VOLLEYBALL first appeared on Asian Volleyball Confederation.