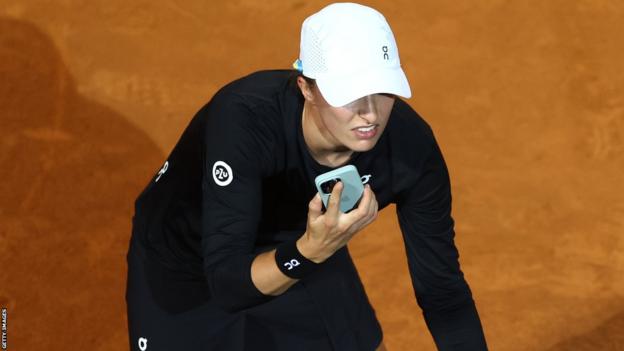 They say not to read the comments – but it's easier said than done.
Many tennis players share their lives online, giving observers an insight into what is going on during the tour. It's a way for the fans to feel closer to the players and vice versa.
But for some, after a match – won or lost – the news takes on a completely different tone.
Earlier in May, American Taylor Townsend shared a screenshot of a death threat and racist abuse she received in an email.
Catalyst? Townsend lost in the third round at the Italian Open.
"I think fans would be surprised at some of the things that not only you but your family get," said world number six Coco Gauff.
"I think that's why I feel like my life has become more private – I don't like to put my friends and family at risk."
This year, French Open organizers offered players at the tournament artificial intelligence – protection against social media abuse – but what does it do and will players use it?
How is the French Open designed to protect players?
Bodyguard technology is designed to filter out offensive comments on Facebook, Instagram, Twitter, Youtube, Tiktok and Discord.
Players can scan a QR code to connect their social media accounts to the system, and the company says it analyzes each comment in real-time in less than 200 milliseconds and blocks offensive remarks.
The company says a team of linguists created word patterns that can be updated in real time, which would help filter out offensive comments, adding: "The goal is to keep nothing from slipping through the network while being careful not to be too censored. "
The French Open is the first of four Grand Slam tournaments to introduce such a system, with French Tennis Federation CEO Caroline Flaissier saying players' mental health is "a Roland Garros priority."
"They were probably betting on you"
While social media allows players to be more accessible, it also opens them up to a higher level of fan control.
Tennis is an almost year-round sport, and the number of matches makes it attractive to players.
"They were probably betting on you. And then they write me this crazy message," said former French Open champion and world No. 17 Jelena Ostapenko.
"I don't care what people say on social media when I lost a match. I might be having a bad day or something was wrong, they don't even know it."
World number one and defending champion Iga Świątek is one of the players who applied for the Bodyguard program.
"I had a ritual after tournaments to see what people thought about my matches. But now I've stopped doing that," she said.
"I had, I don't know, two tournaments, one I won, the other I was in the final. I went on social media and people were unhappy because after last year they thought I should win everything (or) that I was getting worse because I didn't win.
"It got me a little frustrated and I realized there was no point in reading all that stuff."
Świątek called the app "a step in the right direction."
"It's just sad to see that what was supposed to make us happy and socialize gives us more negative feelings and thoughts," she said.
"So I think these kinds of apps can help us use social media and not worry about those things."
Last year's runner-up Gauff said that while she admires the French Open for "stepping in and finding ways to protect players," she would not be using the Bodyguard app as she had already taken action to filter out Instagram messages.
"Honestly, I don't see much bad news on the internet. Before I implemented this (filter), yes, I was getting them on Instagram almost every day, every hour," she said.
"I just filter everything – the messages I see are only people who have been following me for a while. You'd have to be a very dedicated person to leave a hateful comment – you'd have to follow me for a while to do that."
What else is being done to resolve this issue?
Online abuse is not just a tennis issue – nor is it a new concept.
Four-time Grand Slam champion Naomi Osaka has shared many examples of the abuse she has suffered while Serena Williams has been the subject of constant discussions about her appearance and court performance throughout her career.
Footballers are increasingly speaking out about this, especially after English footballers Marcus Rashford, Jadon Sancho and Bukayo Saka were racially abused online after their final defeat to Italy at Euro 2020.
A number of clubs and governing bodies boycott of social media platforms in pursuit of change.
Social media platforms have said they are committed to fighting abuse, and Instagram will introduce a tool in 2021 that allows users to automatically filter out offensive messages from those they don't follow on the platform.
However, more can still be done.
In May, former Olympic champion Monica Puig responded to Townsend's post by urging the ATP and WTA to do more to protect players.
A WTA spokesman said the governing body was working with a risk assessment and governance firm to close social media accounts when warranted.
"The safety of players is the WTA's number one priority," the spokesman added.
"The WTA has been working for several years to educate and advise players on this issue as the number of players affected continues to grow and this is an important issue that we take very seriously."