José Maria Marti was in a class of his own and brought home his second win of the 2023 season in the Monte Carlo Sprint Race. Starting from the inverted pole of the grid, Campos Racing The driver put together a flawless start-to-finish performance to win by over eight seconds.
Trident's Leonardo Fornaroli kept his nerve to keep Grégoire Saucy in second while the ART Grand Prix driver secured the final podium finish from fourth on the grid.
HOW IT HAPPENED
Martí kept the lead out of the line to break away from Fornarola, who was forced to go on the defensive against Taylor Barnard. However, the Jenzer Motorsport driver lost out after a bold move from Saucy on the outside of the first corner allowed him to jump into third place.
The safety car was deployed on the first lap after a contact in the first corner at Sainte Devote caused Jonny Edgar to crash into the barriers. His MP Motorsport teammate Mari Boya also suffered a turn 1 contact which also ended her career.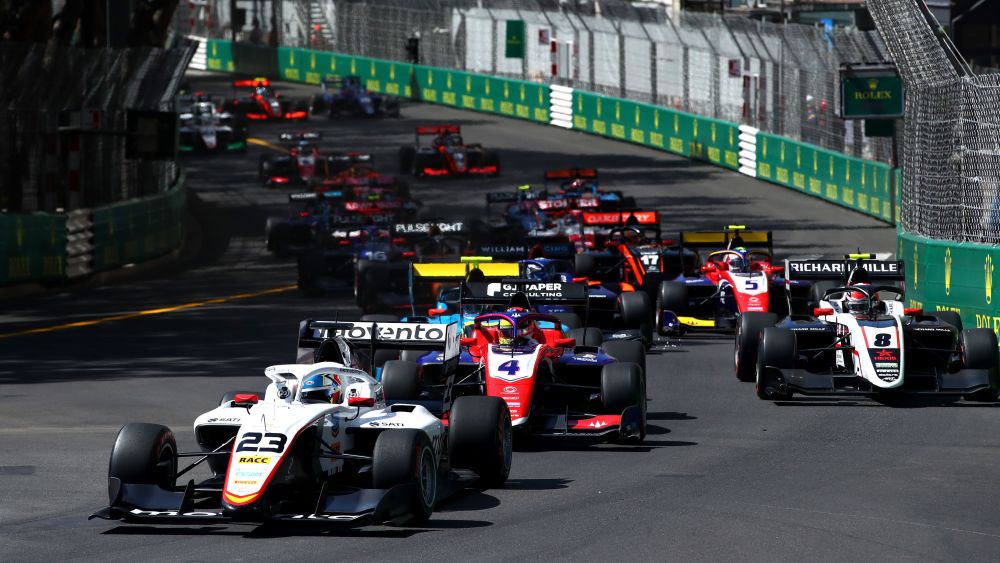 With the safety car pitted at the end of lap 5, Martí was in the lead after the restart. Colapinto was brave on the brakes and a late jump squeezed him past Barnard's fourth at Turn 6.
In the fight for the last point, Gabriele Minì caught up with Paul Aron. The PREMA Racing driver continued to keep him at arm's length even though he had no DRS ahead of him to Caio Collet, leaving the Italian stuck in a PREMA sandwich with Dino Beganovic who was never far behind.
From the front, Martí looked calm, gradually building up his advantage lap by lap. The Spaniard had a lead of over five seconds over six laps in the middle of the race. This had Fornaroli riding on his mirrors as Saucy approached him from behind and Colapinto also stayed close to the Swiss driver.
He wasn't the only Trident under attack as Hitech Pulse-Eight's Sebastián Montoya was primed and ready to attack just as championship leader Gabriel Bortoleto made a mistake. There was none as the Brazilian still held him in sixth place.
With the checkered flag flying, Martí secured the victory by 8.1 seconds over Fornaroli and Saucy in third place. Colapinto made up one place to finish fourth as Barnard added more points to his rookie with a fifth place finish in F3, his best ever.
Bortoleto remained in sixth place ahead of Hitech Pulse-Eight duo Montoya and Browning. Collet scored two points for Van Amersfoort Racing in ninth place while Aron held on to round out the top ten.
KEY QUOTE – Josep Maria Marti, Campos Racing
"It was a great race. Of course Leonardo was pushing me at the start so I was just trying to catch up, see where he was faster and where he was slower, trying to see what I could do to be faster. When it started to drop I had slightly better tires so I just kept up the pace and slowly built up the gap. I'm very happy to have won in Monaco, it was my first race here and driving here was a great experience, really special."
CHAMPIONSHIP RANKING
Gabriel Bortoleto is still at the top of the Drivers' Championship with 63 points and 17 points ahead of Grégoire Saucy. The win moves Josep María Martí to third place out of 35, while Gabriele Minì is fourth, five points down. Leonardo Fornaroli rounds out the top five with 28 points.
Two top-six finishes mean Trident has consolidated its lead in the teams standings, now sitting 114 points behind PREMA Racing's 71 points. Hitech Pulse-Eight remains third with 64, ahead of ART Grand Prix and Campos Racing with 53 and 39 respectively.
IN THE NEXT
Minì will be looking to cover himself with glory when he takes pole position in Sunday's feature race. Lights go out at 08:00 local time.