Bangkok, Thailand, May 23, 2023 – AVC Honorary Lifetime Vice President and Executive Director Shanrit Wongprasert, a longtime administrator for various national and international federations, became the first member to represent Thailand in the International Volleyball Hall of Fame.
The IVHF introduced its induction class of 2023, which will be honored on October 21 in Holyoke, Massachusetts, United States of America. Covering a wide range of volleyball achievements, knowledge and history, the history-making class includes six members from four disciplines who have been at the top of the game in their category, setting standards and making history on their way to being honored with this prestigious recognition.
The IVHF Induction 37th Class consists of the following members: Olympic gold medalist and four-time Olympian Phil Dalhausser (United States, Beach Athlete); two-time Olympic medalist and five-time FIVB World Tour champion Larissa Franca Maestrini (Brazil, beach athlete); three-time Olympic medalist and iconic quarterback with a twenty-year career Katsutoshi Nekoda (Japan, indoor player); four-time Olympian and three-time Olympic medalist Yumilka Ruiz (Cuba, indoor athlete); Olympic medalist and longtime professional and national team coach Silvano Prandi (Italy, coach); AND Mr. Shanrit Wongprasert (Thailand, leader).
https://www.youtube.com/watch?v=rNje0P8ACd8
Mr. Shanrit, 79, was born on December 16, 1943 in Ban Pong District, Ratchaburi, Thailand. He has served as zonal vice president and general secretary of the Asian Volleyball Confederation, and has been a board member of the FIVB since 1992.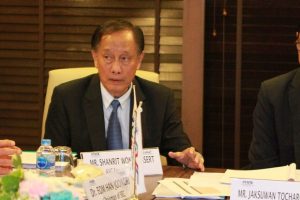 In 2019, he was awarded the Asia Olympic Council's Award of Merit for his outstanding contributions to the development of sport in Asia, and has held various positions in the Thai Volleyball Association (TVA) during his career, including honorary lifetime president of TVA.
He helped organize and oversee AVC indoor and beach volleyball competitions for the sustainable development of Asia and global volleyball.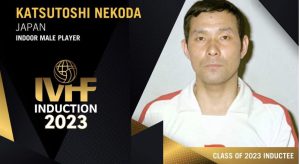 Another member from Asia who won the award is Mr. Katsutoshi Nekoda from Japan. He was the quarterback of the Japanese national volleyball team from the 1960s to 1980. He was a four-time Olympian and won three medals – gold at the 1972 Munich Games, silver at the 1968 Games and bronze at the 1964 Tokyo Games.
Invented and popularized the ceiling serve where the ball is hit towards lights in the ceiling, making it difficult to judge the landing. Additionally, he was named the best point guard of the 1969 and 1977 FIVB World Cups and the best point guard of the 1970 FIVB World Championship, and widely regarded as the most iconic player in the then-dominant Japan men's national team.
Four special award winners were also announced, recognized for their contributions to the IVHF or the sport of volleyball itself. These include AVP (Court of Honor), Homewood Suites Holyoke/Susan Concepcion (William G. Morgan Award) and outgoing American Volleyball Coaches Association (AVCA) Executive Director Kathy DeBoer (Mintonette Award). Earlier in 2023, Hector "Picky" Soto was also honored (Puerto Rico) with the Mayoral Award of Excellence.
"Since 1985, the IVHF has had the unique honor of introducing the legends of our sport while recognizing them for their rich careers and numerous achievements," said the IVHF president Steve Bishop, also president of the Florida region of USA Volleyball. "This year we are looking forward to welcoming another amazing class of participants as well as some very deserving special award winners. We can't wait to create new memories with this class of 2023 award winners. So many of the world's greatest volleyball players, coaches, administrators, activists and leaders have traveled to Holyoke, Massachusetts, USA, the birthplace of volleyball, to have their names and plaques placed on the Wall of Honor and to experience the culminating moment when their name is spoken and their story is captured forever. We invite everyone to join us for this amazing celebration."
The 2023 International Volleyball Hall of Fame Induction Ceremony will be held in Holyoke, Massachusetts, USA on Saturday, October 21, 2023. The event is open to the public on a first-come, first-served basis and ticket packages are available online at www.ivhf.org.
QUICK LINKS
AVC website: click www.asianvolleyball.net
AVC Facebook: click www.facebook.com/AsianVolleyballConfederation
AVC Twitter: click: www.twitter.com/AsianVolleyball
Instagram AVC: click: https://www.instagram.com/avcvolley/?hl=en
AVC Youtube: click: Asian Volleyball Confederation
AVC WeChat: Asian Volleyball Confederation
Post AVC EXECUTIVE DIRECTOR, MR. SHANRIT WONGPRASERT, WINS IVHF INTRODUCTION CLASS OF 2023 first appeared on Asian Volleyball Confederation.